July 2-4th
---
The 4th of July weekend is approaching!  Make your plans now to enjoy firework displays and Independence Day celebrations throughout Hampton Roads.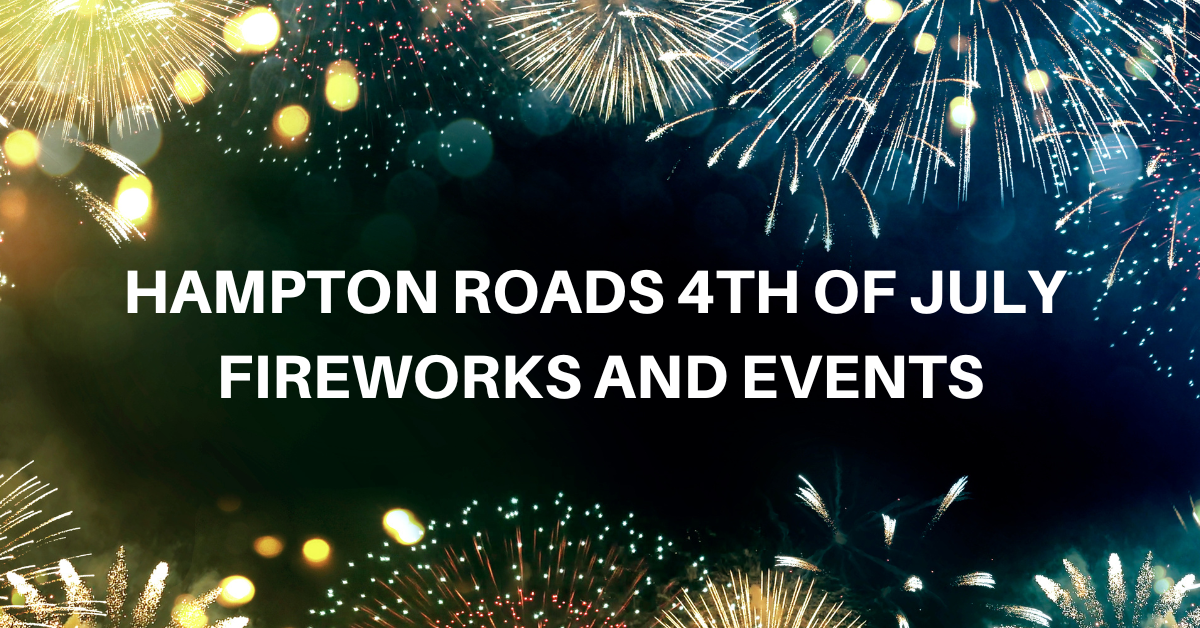 ---
CHESAPEAKE:
Sunday, July 3rd: Celebrate Freedom. Celebrate America's Birthday with the U.S. Fleet Forces Band, providing stirring patriotic sounds. Following the concert, fireworks by Pyrotecnico will illuminate the dark sky after sunset. Bring your own chairs or blanket. (Tents, feather flags and oversized umbrellas are not permitted!) Event is FREE to the public. $5 on-site Parking Fee. Gates open at 7pm.
Monday, July 4th: Annual South Norfolk Parade & Picnic in the Park. The South Norfolk Civic League and the Chesapeake Parks, Recreation and Tourism Department will present an abbreviated version of the patriotic event, held annually in South Norfolk from 1 p.m. – 4 p.m. at Lakeside Park, 1441 Bainbridge Boulevard in Chesapeake.  The event is FREE to the public although some activities may require a small fee.
HAMPTON:
Saturday, July 02, 2022: Langley Speedway will host the
Fireworks & VA Sprint Car Series
ISLE OF WIGHT:
Sunday, July 3rd: Join Isle of Wight County Parks & Recreation for our Annual Independence Day Celebration! Come out to Heritage Park for Fireworks at the Fairgrounds. Food Vendors will be on-site. Gates open at 4:30 pm, Concerts begin at 5:00 pm and 7:30 pm, Fireworks start at 9:30 pm.
NORFOLK:
Sunday, July 3rd: Independence Day Fireworks Extravaganza at the Norfolk Tides. Celebrate America's Independence with a Post-Game Special Fireworks Extravaganza after the game!
Monday, July 4th: 39th Annual 4th of July Great American Picnic & Fireworks at Town Point Park, Downtown Norfolk Waterfront, Virginia from 5pm – 10pm. Firework Display at 9:30pm.  FREE & OPEN TO THE PUBLIC!  Learn more here.
NEWPORT NEWS:
Monday, July 4th: 4th of July – Stars in the Sky at Victory Landing Park.  Event begins at 7pm.  Free admission. Free parking.  Learn more.
PORTSMOUTH:
Monday, July 4th: Shaggin' 4th of July Celebration. A Beach Music party on the 4th of July to show off your shag stepping.  The Breadwine & Blooze Band plays beach music from 5:00 p.m. – 8:00 p.m. with a follow-up performance by the Tidewater Concert Band playing patriotic music from 8:00 p.m. – 9:30 p.m., at High Street Landing. Fireworks show at 9:30 pm.  For more information, call (757) 393-8481.
POQUOSON:
Saturday, June 25th: Poquoson's Picnic In the Park and Fireworks. 5-10 pm. Enjoy Food, Fun and Fireworks at the Community Celebration and Picnic in the Park. This kick-off for the summer welcomes our community back and come enjoy this fun family friendly event. All are invited. Free parking follow signs.
SMITHFIELD:
Friday, July 1st:   Fireworks in Smithfield. The display will shoot off from Clontz Park in Downtown Smithfield with good viewing from the Smithfield Station Bridge and all along the river.  Learn more here.
VIRGINIA BEACH:
Monday, July 4th: Stars & Stripes Celebration. Virginia Beach's 'star-spangled' salute will feature live music and events that culminate in a fireworks show. Admission is free.  Learn more here.
Monday, July 4th: Virginia Beach Parks and Recreations' 4th of July Celebration at Mount Trashmore. Fireworks begin at approximately 9:30 pm. Admission is free; limited onsite parking is $10. Food and drinks will be available for purchase. Main Stage Performances 6-9:30pm by Vinyl Headlights. Learn more: www.VBgov.com/specialevents
WILLIAMSBURG:
Monday, July 4th: Live music and entertainment on the Lawn of the Art Museums of Colonial Williamsburg.  Fan-favorite band Good Shot Judy headlines a music concert from 7– 9:30 PM. Presented by Culture Fix and the City of Williamsburg.  Learn more here.
WINDSOR: 
Monday, July 4th:  Independence Day Celebration Fireworks Show.  Free admission. Gates open at 5:00 p.m. Show begins at 9:30 p.m. Food vendors on site. Bring your own chair (no tents). 21311 Courthouse Hwy Windsor, VA 23487. Learn more here.
YORKTOWN:
Monday, July 4th: The Independence Day Celebration will take place in historic Yorktown from 9 am-9:30 pm. Fireworks begin at 9:15 pm.