Have room for one more this holiday season? Sign up to be a Holiday Hero for one (or more) of our shelter pets over the Christmas Holiday!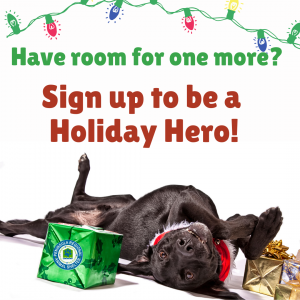 If you're interested in opening your home for one week, December 21st through the 28th, please fill out the following survey: https://airtable.com/shr6hqL6W6QESUgvU
*Fosters must be able to pick up on Tuesday, December 21st between 10-5. We may have additional shelter pets that can leave later in the week, but Tuesday will be the main pick up day. Main drop off day is Tuesday, December 28th, but we have more wiggle room for drop offs than pick ups. PRAS may not have an appropriate fit for everyone that signs up to foster. We will do our best to make the best matches for everyone involved. Fosters also must live within an hour's drive to the Peninsula Animal Referral Center in case of an emergency situation.
Please let us know if you have any questions about this opportunity!