---
Jane Marczewski, known to "America's Got Talent" fans as Nightbirde, lost her battle with cancer over the weekend.  She was only 31.
When Nightbirde auditioned for "AGT" last year, she had cancer in her lungs, spine, and liver.  But she won everyone over with her strength and positivity, as well as an original song called "It's Okay".
After getting a standing ovation from the crowd AND the judges, she said, "You can't wait until life isn't hard anymore before you decide to be happy."
She told the crowd, "I have a two percent chance of survival, but two percent is not zero percent.  Two percent is something, and I wish people knew how amazing it is."
The Ohio native earned a Golden Buzzer for her audition on AGT last year, and seemed destined for a long run on the show, but decided to leave the competition before live shows began when her health took a turn for the worse
With that one brief TV appearance, however, Nightbirde inspired and captivated millions of people.
After news of her death broke, "AGT" host Terry Crews paid tribute to Nightbirde saying, "We are saddened to learn about Nightbirde's passing.  Our Condolences goes to her Closest Family & Friends in such of This difficult time.  We Love you, Nightbirde."
 

 

View this post on Instagram

 
Heidi Klum and Sofia Vergara each shared photos of Nightbirde on their Instagram stories honoring the late contestant.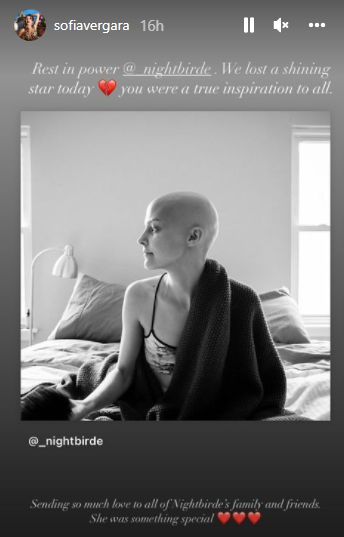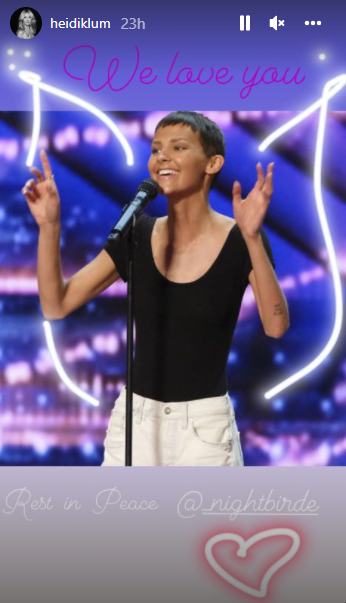 Watch her inspiring audition below.