---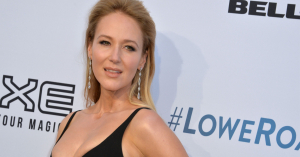 Jewel delivered a unique rendition of the National Anthem at the Indy 500 yesterday this weekend.
The singer-songwriter's acoustic version received mixed reviews from those watching the annual racing event.
Take a look:
.@jeweljk sings the national anthem at the greatest spectacle in racing. 🇺🇸 #Indy500

📺: NBC and @peacock pic.twitter.com/rpjuG1o2dk

— INDYCAR on NBC (@IndyCaronNBC) May 28, 2023
Some fans took to Twitter to declare their love for Jewel.
I don't care who attacks me for this, but I loved Jewel's National Anthem. I think it gave the words more meaning. As someone who's heard it 1000s of times in my career, I was really listening to her and reflecting on the words.

— lori wood (Hauger) (@mankea) May 28, 2023
Agreed… if they want the same old same old they should've recorded it a 100 years ago and piped it in.. where do people get off not knowing ALL music is interpretive.. otherwise 🥱. Jewel was fabulous!!

— Mailmama5150 (@MailMama5150) May 30, 2023
While others called it the "worst anthem rendition to date."
jewel's national anthem for indy 500 might be the worst anthem rendition to date

— boone (@im_boone) May 28, 2023
Jewel butchered the national anthem at the Indy 500. People were trying to sing along but couldn't because of the way she sang it. What a shame.

— Nancy Gould (@nagould) May 28, 2023
For the love of God, STOP CHANGING THE MELODY AND RHYTHM OF THE NATIONAL ANTHEM. Jewel's rendition is now in my top 3 least favorites.

— A M Y (@aragle12) May 28, 2023